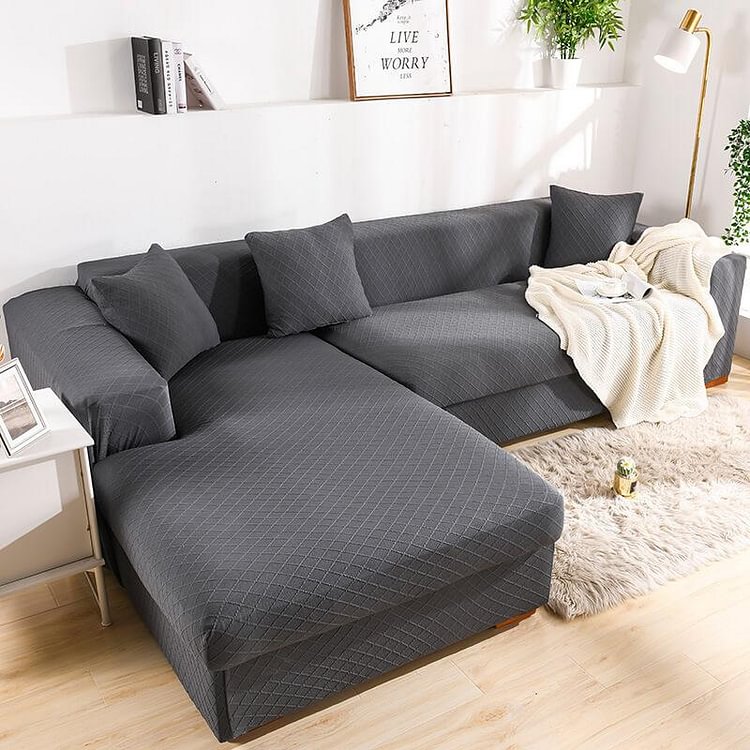 Are you confronting the same dilemma with them?
A: My sofa is too old, I want a more fashion decor but it is still so comfortable and I can't just throw it away.
B: I bought a new leather sofa, but my kids keep painting on it. It is so hard to maintain.
C: I have a dog and he loves lying on sofa with me. So there are always dog hair and scratches. I hope there is a way to protect my sofa.
All their troubles are solved with this new Jacquard Couch cover!
Performance Features:
[LUXURIOUS JACQUARD FABRIC]--- Latest luxurious Rhombus jacquard fabric and strictly selected popular colors. Extra soft fabric will make your sofa the most comfortable place for you to relax.
[TRIPLE NON-SLIP PROTECTION]--- Elastic band, fixing rope, and ultimate, non-slip foam. High Stretching + Most Regular Chosen Sizes = Perfect Fit. Fit any types of sofa with gaps.
[SIZE]--- Four regular sizes. Please measure your sofa from arm (left outside) to arm (right outside) before ordering. Chairs/1 Seater 35" to 55" arm to arm; Loveseat/2 Seater 55" to 71" arm to arm; 3 Seater sofa 73" to 90" arm to arm and 4 Seater sofa 92" to 118" arm to arm.
[EASY TO INSTALL & CARE]--- Dress your couch is a lot easier than you think, as well as maintain the clean and tidy condition. For dressing it, it only takes 4 easy steps and all can be done by 1 person.
For maintaining it, machine washable fabric will free you from worry and just throw it into the washing machine.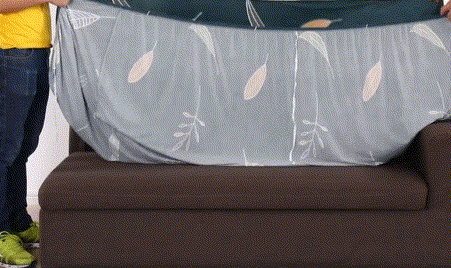 How to Measure
If your sofa is between 90-140cm in length, please choose a 1-Seater sofa cover.
If your sofa is between 140-180cm in length, please choose a 2

-seater

sofa cover.
If your sofa is between 185-230cm in length, please choose a 3

-seater

sofa cover.
If your sofa is between 235-300cm in length, please choose a 4

-seater

sofa cover.
For modular sofas or corner sofas, we recommend buying 2 or 3 pieces. The size of the cover will depend on the length of the AA, BB and CC lines.
For example, L-shaped sofa: If AA = 200 cm, BB = 160 cm, you should buy 1pc 3-Seater sofa cover and 1pc 2-Seater sofa cover.
Installation
Find the back label and make it always on the back of sofa.
Cover the whole sofa.
Tie the rope from the bottom.
Adjust the slipcover to perfect fit, then tuck the foam in the gap of sofa to prevent it from slipping.
Smooth the wrinkles and you've got a brand new sofa! Enjoy it!
Package Includes
1 pc× sofa cover

(

Foam Sticks included

)

or 1 pcs× pillowcase
For uncontrollable reasons (weather, COVID-19), some orders may be delayed in delivery. We apologize and will coordinate with our logistics provider as soon as possible to achieve fast delivery. If you have any questions, please
Contact Us!

The time frame for order delivery is divided into two parts:
Processing time: Most orders are shipped within 3 business days (Monday - Friday, excluding holidays), but we ask you to allow us 2-3 business days in the unlikely event that foreseen circumstances occur.

You can check the order status through our customer service email ([email protected]m)

When goods are shipped, our website will automatically send you a letter about logistics single number query email
* This is just an email notification. If you have other questions, please contact customer service email, don't touch the notification E-mail
* Of course, you can also contact our customer service email to check your logistics tracking number ([email protected])
Shipping time: This refers to the time it takes for items to be shipped from our fulfillment center to the destination.
Shipping Methods & Delivery Time
United States (excluding Alaska, Hawaii, and Puerto Rico)


AREA
Shipping Method
Shipping Time
Costs(USD)
Below $50
Above $50
Most countries in Europe and America
Express Shipping
15-20 Business Days
$6.95
$0
The U.S, UK, Canada, Australia
Express Shipping
15-20 Business Days
$6.95
$0
U.S
Standard Shipping
21-30 Business Days
$0 (Event has ended)
$0 (Event has ended)
AREA
Shipping Method
Shipping Time
Costs(USD)
Below $70
Above $70
Alaska, Hawaii and Puerto Rico

Ordinary Express

15-20 Business Days
$70
$70
After entering the state, the freight will be automatically included in the shopping cart. It depends on the reference destination to automatically calculate the weight and package size. Under the same weight, the calculation results of different regions are different.
If the item is damaged or stolen, we will contact the corresponding transportation company for a refund or re-delivery.
Please note: Larger items such as furniture and rugs will take between an additional 20 to 30 business days on top of the above estimated shipping times for your order to be delivered.
Please note: COVID-19 has caused delays with shipping times, please allow extra time for your item to arrive due to limited airline logistics and ground teams.
Tax And Duties
Taxes and duties are calculated according to your shipping destination and itemized on the Checkout page. Select your location to view the correct local market pricing, delivery times, and shipping costs.
We ship to all locations on a DDP (Delivery Duty Paid) basis, which means that all relevant import taxes and duties will be included in the product price.
Where can the products be delivered?
We ship to the United States and most of the world.*
*Please note, We are temporarily unable to transport the following countries(Updated from time to time, the data may be inaccurate, if it can be purchased, it proves that it can be delivered):
East Timor, China, Macao, Central African Republic, Ukraine, Uzbekistan, Uganda, Uruguay, Chad, Yemen, Israel, Belize, Russia, Gambia, Guinea, Guinea-Bissau, Congo (Brazzaville), Libya, Liberia, Ghana, Gabon, North Macedonia, South Georgia and South Sandwich Islands, South Sudan, South Africa, Botswana, Rwanda, India, Indonesia, Ecuador, Syria, Taiwan, Kyrgyzstan, Djibouti, Colombia, Cameroon, Saint Lucia, Saint Kitts And Nevis, Sao Tome and Principe, Saint Barthelemy, Saint Vincent and the Grenadines, Saint Pierre and Miquelon, Saint Helena, Guyana, Tanzania, Egypt, Ethiopia, Senegal, Serbia , Sierra Leone, Seychelles, Togo, Dominica, Dominican Republic, Aland Islands, Angola, Anguilla, Antigua and Barbuda, Nicaragua, Nigeria, Niger, Palestinian Territory, Bahamas, Pakistan, Papua New Guinea , Paraguay, Panama, Bahrain, Brazil, Burkina Faso, Burundi, Buewe, Cook Islands, Curacao, Cayman Islands, Tokelau, Moldova, Morocco, Fiji, Swaziland, Slovakia, Slovenia, Svalbard and Jan Mayen, Sri Lanka, Chile, North Korea, Guernsey, Grenada, Mauritania, Mauritius, Tonga, Saudi Arabia, French Southern Territory, French Saint Martin, Faroe Islands, Bosnia and Herzegovina, Zee West Island, Zimbabwe, Honduras, Turks and Caicos Islands, Trinidad and Tobago, Bolivia, Nauru, Guadeloupe, Wallis and Futuna, Belarus, Bermuda, Pitcairn Islands , Falkland Islands, Kuwait, Côte d'Ivoire, Cocos (Keeling) Islands, Kosovo, Peru, Tunisia, Somalia, Jordan, Namibia, Niue, United States Minor Outlying Islands, Laos, Kenya, Sudan, British Indian Ocean Territory, British Virgin Islands, Netherlands Caribbean, Netherlands Saint Martin, Netherlands Antilles, Mozambique, Lesotho, El Salvador, Samoa, Western Sahara, Benin, Zambia, Equatorial Guinea, Heard Island and McDonald Islands, Afghanistan, Algeria, Argentina, Aruba, Maldives, Isle of Man, Malawi, Mayotte, Madagascar, Mali, Montenegro.
How do we ship your order?
Usually, we will ship the goods within 1-3 working days after payment. We will have a tracking number after shipment, and the tracking number will be sent to your email.
We will ship them to the shipping address you left. Please make sure that your address and consignee's name are correct (note: post office box addresses are not accepted).
In case you cannot receive the order, please contact us so that we can order replacement products or give you a gift/discount code to make things right! If you have not received the order, please wait 4 weeks before contacting us.
How to change your delivery address?
In the call center business hours: within the first 60 minutes after placing an order, buyers can call our customer service department at +86 15029307573 to change the delivery address, or send an email to [email protected]. After 60 minutes, your order is too far away in transit and cannot be changed.
Customer service hours: Monday to Friday, 9 pm to 12 pm Eastern Time. (We will reply to your emails promptly)
Please note-as our customer service team cannot cancel orders, it is not possible to change orders placed outside the working hours of the customer service department. Orders placed outside of customer service hours will be sent directly to our fulfillment center for packaging and shipping.
If you cannot pick up the goods from the original address, the carrier will try to ship up to 3 times and then keep your package at the nearest FedEx or USPS office for 5 days.
If you cannot pick up the goods there, they will be sent back to our warehouse.


How to track my order?

Track My Order
After the order is shipped, you will receive a confirmation email with tracking information. If you encounter any problems when tracking the package, please feel free to contact us at [email protected], and we will solve the problem as soon as possible.
For any questions related to your order, please contact us at [email protected], and we will work with the mail courier to further investigate the status of your order.
Contact information:
Email: [email protected]

Please enter the tracking number below.
The tracking status might take a few days to be updated, please wait patiently.
For any questions give us a quick email at

[email protected]

or contact us
Have a nice day! (●'◡'●)
Enter your tracking number(s)

Share your thoughts with other customers =)
Wow you reached the bottom
Most liked
Highest ratings
Lowest ratings
The review would not show in product details on storefront since it does not support to.